'Run for your Lives' for PAWS
4th August 2016
In order to help tackle our massive vet bill, two members of our team (Ramsy and Suzy) have bravely signed up for 'Run for your Lives'.  A nightmarish event which sees participators 'run for their lives' from zombies over a 5 kilometer obstacle course made up of natural and man made obstacles taking place this October on Sunday the 30th at Malahide Castle, Dublin.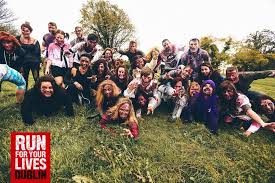 If you would like to help by sponsoring our team members in 'running for their lives' all in the name of PAWS Animal Rescue, please donate on the following link – https://www.justgiving.com/fundraising/runforlivesforpaws
or donate directly via www.paws.ie/donate/
All contributions no matter how big or small are all very gratefully received and go straight towards helping us continue our work in rescuing and rehoming dogs in need of some help.  Thank you!