Success Stories – Kim found her home
7th November 2016
With a new season, brought us some very happy news!
One of our former long-term PAWS' dogs found her forever home.   After almost two years in the PAWS kennels, our American Bulldog cross Kim finally got her well-deserved happily ever after.  Poor Kim found herself in PAWS almost two years ago, after she spent the first part of her life being passed from pillar to post never finding her real forever home.  She was a favorite amongst lots of our staff and volunteers and shared her kennel with all shapes and sizes of dogs.  She watched every one of her kennel mates getting adopted and moving on to their very own forever homes and you could just see it in her while she tried to work out why she was staying behind and no one has come for her.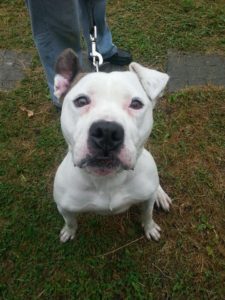 During the summer, a very special appeal for forever homes for our long-termers was launched online and lots of people came forward to enquire about our special 'sticky' dogs.  We all had our fingers crossed for special girl, Kim.  Finally, a very lovely man arrived at the PAWS gates looking for a friend for his rescue rottweiler, Elvis.  Kim and Elvis immediately hit it off and a few weeks later, Kim was heading off to her new forever home.  We recently got an update letting us know that Kim is getting on fantastic in her new home with her new rottie brother.  We couldn't be happier for Kim, we knew all she needed was a little time and understanding and she would flourish in a new home. We are so glad she finally got her chance.  This kind of success stories is what gives us PAWS crew the drive and hope we need to carry on.
If you would like to find out about adopting one of our special long-term PAWS dogs, please contact PAWS directly on (052) 915 3507, email us pawsanimalrescue@eircom.net or take a look at our information on our long termers in the Kennel Diaries below.