Do you feel you want to help animals but you are not in a position to adopt a dog at the moment?
Well there are plenty of other ways you could help.
PAWS is a non-profit organisation and we depend on the general public to help us keep our doors open to those in need. We receive a grant from the Department of Agriculture at Christmas. However, our main source of income to cover the shelter running costs are YOUR donations.
We now have the facility to accept donations online.
You can also become a monthly sponsor by downloading our Standing Order Form, print it out and fill in your details and return to PAWS. Remember no amount is too small.
Or send a donation directly through the post to, PAWS Animal Rescue. Mullinahone. County Tipperary E41 R652.
Tax Efficient Giving
If you are a PAYE tax payer or a self assessed tax payer and donate €250 or more a year, PAWS can claim back the tax that you have already paid on your donation, hence bulking up your donation to us by up to 40% at NO extra cost to you. Please email [email protected] for details
Corporate Donations
Under the 2001 Finance Act, a corporate tax relief scheme is in place for companies that make donations to eligible charities. A company donation greater than €250, with no upper limit, to PAWS, can qualify for tax relief at the current rate of corporation tax. The company will claim a deduction for the donation as if it were a trading expense.

If you are a shop or pub owner, contact us to get a donation box for the counter. Run the mini Marathon, hold a sponsored walk, organise a coffee morning, do a skydive or or use your imagination to find cool fun ways of raising funds for animals in need
For our A-Z list of fundraising ideas, Click Here


Come down to our kennels and help out on your time off. If you are a dog lover there is nothing more fulfilling than to be able to help out with the dogs first hand. The work includes cleaning out kennels, feeding, grooming and playing with the dogs.Don't forget to wear durable clothing and welly boots, and your sunniest smile of course!

As our kennels are always full to the brim and our kennel staff are run off their feet, there is not enough time to walk the dogs regularly. If you enjoy walking and like to keep fit, why not come on down and bring a few dogs out for nice walks around the countryside? 
We have a wonderful group called Walk A Dog who regularly visit and bring our doggies out. They usually show up in Paws both Saturdays and Sundays and walk the dogs between 1-5pm. As there can be up to 90 dogs onsite they rely heavily on extra volunteers to help out. It is heartbreaking if all the dogs cannot be walked on the day.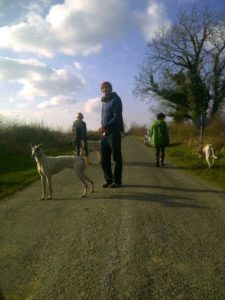 If you live in Kilkenny Walk A Dog do a pick up in front of the Ormonde hotel in Kilkenny at 1 pm. If you are planning on visiting from another area and have your own transport why not see if you bring another volunteer along!
Please drop Walk a Dog a message on their Facebook page if you would like to join them. It really is a great way to spend a weekend afternoon.
Thank you.
Visit the PAWS shop here now and see how you can help our pets. Feed a dog, sponsor a kennel, buy a raffle ticket and much more.