Meet Our Special Long-term PAWS dogs
6th July 2016
Last year, some of our long term dogs that had been in our shelter at PAWS for over a year or more found their way into someone's heart and had finally found their forever home.  Among them was Teddy Bear the staffie that had been overlooked for over a year before he got adopted by a lovely lady and now spends his time in a loving home and going on walks to the beach.  Shayla, the staffie cross, who was the sweetest little lady and spent over a year in the kennels before finding her perfect home in Dublin.  Pancho, Dell and Copper, some of our special long-term lurchers who had found themselves waiting in the PAWS kennels for over three years before they found their forever homes also got their chance at having a home of their own in 2015.  Particularly Pancho, who was adopted by one of our weekly volunteer dog-walkers, Katja, and now shares his life with Patrick another rescued lurcher in Kilkenny.  Dell and Copper were adopted overseas.  The year before that saw another long-termer, Louis, an American Bulldog, a surrender who stayed at PAWS for well over a year before he was adopted by one of our very own staff and now lives a happy life being very spoiled with two other rescue dogs.
Most dogs manage to find their forever person and get adopted easily enough but every rescue shelter has their special 'sticky' dogs that find themselves waiting a long time for that special person to come along and offer them a forever couch and PAWS is no different.  Often, it is through no fault of the dog's that they have to wait that extra bit longer.  All of us here at PAWS believe the right home for all of our rescue dogs is out there if you wait long enough.  Although, it is often heart-breaking for our long-term dogs watching their kennel-mates get adopted and set off for their new home while they stay behind.  You can almost see it in their faces trying to work out why nobody has come for them yet.  All of these dogs are special with their own stories and unique personality, many of them lurchers, cross-breeds and even pure-breeds, but all have one thing in common, each one is a loving dog that would make someone a wonderful pet.  They just need somebody to look past the sad story etched on their face and give them a chance to show just how special they truly are.
For this reason, we have a compiled a list of our special long-term dogs who are all wonderful and unique in their own individual way with the hope that the right person will see them and decide they are the dog for them.
First up, is Drake.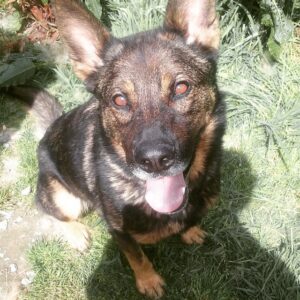 When the PAWS staff think of our 'long-termers,' it is guaranteed the first dog to come to mind will be Drake.  Drake is a fabulous German shepherd cross boy.  Drake was a rescue case.  When he arrived in PAWS, he was skin and bone and looked like he'd never spent a night in a comfy bed or even eaten a full meal.  His coat was matted and he was badly in need of some TLC and kindness.  Drake received the vet attention, care and a few good meals he needed and he just blossomed into this magnificent dog that is just bursting with love for everybody he meets.  Almost four years later, Drake is still at PAWS awaiting someone to come and offer him the right home.  Drake loves just about every person he comes across and greets everybody with licks and doggy cuddles.  He holds the place of 'favorite' for many of the PAWS staff and volunteers alike.  He lives for his walks and especially loves his grub, understandably, considering the condition he was in when he arrived at the shelter.
Drake's only vice is he needs to live in a secure home where he is the only pet.  We believe Drake never received the proper socialisation with other animals that every pup needs growing up and, because of this, he doesn't know proper etiquette when meeting other animals and gets quite stressed. This is also why Drake needs someone with lots of experience with reactive dogs and experience training dogs.  This is a must for anybody considering adopting Drake.  A very secure garden with a high, Drake-proof fence/wall is also a 'must-have' for this reason.  Drake can behave like a big, soppy pup who doesn't know his own strength at times.  Saying this, he also knows the 'sit' command quite well and will sit for his dinner and for cuddles once he's told.  For this reason, he needs a home without little ones he could knock over by accident.  Recently, Drake went on a day out with one of our staff and experienced the fun of beach walks and cuddling up on someone's couch, given his little experience over the past few years of being anywhere but his run at PAWS and walks around the PAWS' fields, he behaved very well and this gave us some insight into how Drake would be in a home of his own and we can provide this information to any future, potential adopters.  Drake is very special and we know that the perfect person is somewhere out there looking for the perfect dog and we think, with the proper patience, understanding and care, Drake can be that perfect dog so please take a look at our adoption guidelines below and get in touch if you think you could give Drake the chance he needs.
Introducing Topper,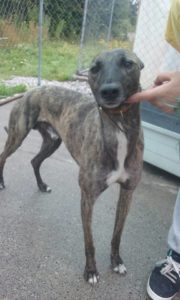 Topper is another of our long-term lurchers in need of a loving, forever home.  Poor Topper was surrendered to PAWS after he was deemed 'no good' for hunting.  He was a very shy and nervous boy when he first arrived but almost a year in the kennels later, he has become much more used to being handled.  He has even made lots of friends among the PAWS' staff and enjoys his rubs and cuddles.  A few months ago, Topper's kennel mate, Theo the rough coated lurcher, found his forever home and we would love for Topper to find a home of his own as he is getting a little sad being in kennels.  He is a very handsome dark brindle boy who would be best suited in a secure, adult-only home with someone who has experience of owning dogs.  Could you offer Topper his perfect home?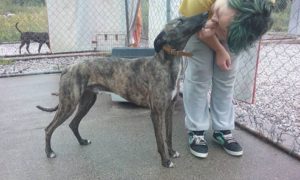 Topper giving Amy kisses
Meet Betty Boo,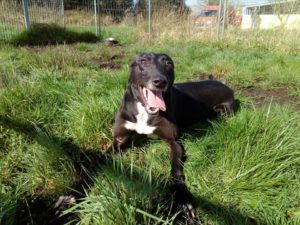 The first thing you notice about Betty Boo when you first meet her is her big, beaming, doggy smile!  This happy little lurcher loves absolutely anyone and everyone.  Betty Boo is well known among all the staff and volunteers for her goofy personality.  When you pass her kennel or go in to spend any time with her she gets so excited, she almost vibrates with happiness and goes into bouncy-Betty Boo mode while flashing you a big smile until you give her cuddles.  She shares her kennel with a quiet greyhound boy named Cal but we think she will get along with most dogs in a experienced dog-owner's home as she will need most of her basic training and the time and understanding to settle into home-life.  She is approaching her one year anniversary at PAWS and we would love if she could find her forever home before then.  Betty Boo is an easy going girl and once she gets a daily sprint in an enclosed space, then she would happily curl up beside you on the couch for the rest of the day.  She has been overlooked a lot, we reckon this is to do with 'black dog syndrome' which is when black dogs, especially lurchers, get overlooked a lot in shelters as they don't stand out as much as other colored dogs.  Betty Boo has so much love to give, the only thing she is missing is someone to give it to.  If you think Betty Boo could be the dog for you, please get in touch.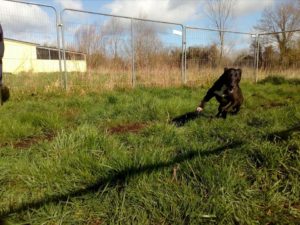 Betty Boo having a run-around
Introducing Abbey,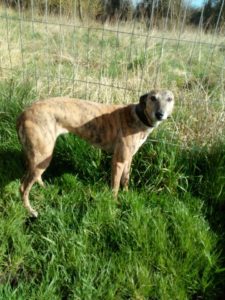 This is our resident golden girl, Abbey.  She is a super, sweet, older girl on the search for her forever retirement home.  She is a very special lady who has a lot of love to give.  She has a lovely proud presence about her as if she's telling us all in her 8+ years she has been there, done it all and seen it all and right now she is looking to us for help in finding her her retirement home.  She is currently sharing her kennel with two other sighthounds and she enjoys their company, but being an older lady, she really loves when she has someone to come sit beside her for cuddles and chats.  She is an expert in giving you the 'puppy-dog eyes' and all the licks and tail wags it takes for you to spend all your time with her.  She is a gentle, old soul and we think she would suit a first-time dog owner or an older person as she wouldn't need a lot, just a daily short stroll, a comfy bed and some TLC.  Do you think you could offer Abbey her forever home?
If you are considering adding  one of our 'long-termer' PAWS' dogs to your family, please contact us or come visit our shelter in Mullinahone.  We are open to the public between 2pm and 4pm every day and will be happy to discuss the needs of both you and our 'long-termer' dogs to figure out if they could be the perfect dog for you.
Our Adoption Policies if you are considering adopting a PAWS' Dog:
1. Our dogs are rehomed as indoor pets.
2. Your garden should be fully enclosed by walls or secure fencing (not hedges) and absolutely NO electric/Radio fencing.
3. If there is nobody at home all day (two dogs are required)…
4. Children over seven years only. This is for your child's protection
5.There is a pre-adoption homecheck carried out for all dogs.
6. There is a €120 adoption fee for all of our dogs